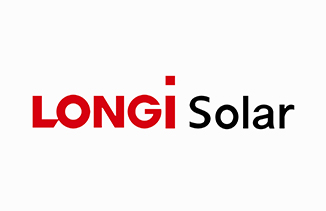 LONGi was founded in 2000 and listed on Shanghai Stock Exchange in 2012 (stock code: 601012). It is currently the largest manufacturer of solar monocrystalline silicon wafers, cells and modules in the world.
LONGi has a global industrial chain, with production bases in Malaysia, India and Shaanxi, Ningxia, Yunnan, Jiangsu, Shanxi, Zhejiang and Anhui provinces in China. The company's global sales headquarters is in Xi'an, China with branches in the United States, Japan, Germany, India and Australia. In addition, LONGi has established strategic partnerships to explore technical development in the industry with renowned enterprises and universities, including DuPont, Huawei, 3M and the University of New South Wales.
At the close of 2018, LONGi planed 28GW monocrystalline silicon wafer capacity and 12GW monocrystalline module capacity. Planned capacity in 2020 is 45GW in silicon wafer. LONGi accounted for 38% of global monocrystalline silicon wafer capacity in 2018. Module shipment in 2018 ranked top 4 in the world ,and mono module shipment has remained No.1 in the world from 2016 to 2018.
In the first three quarters of 2018, LONGi's revenue exceeded USD 2.1 billion, total assets were USD 5.6 billion and headcount exceeding 18,000. With rapid development, LONGi has demonstrated robust sustainability and maintained sound financial health, with reasonable debt ratio and good asset liquidity. Profitability and asset income leads the industry and LONGi financial health index ranks first among over 50 core manufacturers in the world.
With technology at its core, LONGi has maintained substantial investment in R&D to enhance R&D capacity. In 1H-2018, LONGi's R&D expenditure grew 61.80% year on year to USD 105 million, 7.18% of the revenue. In the past five years (2013-2017), LONGi had invested USD 370 million in R&D which is recognized by PV Tech as the largest R&D investment in the PV industry.
With emphasis and long-term investment in R&D, LONGi has maintained technology leadership and obtained 407 patents. In addition, LONGi has rapidly applied new technologies and processes into large-scale production, made remarkable achievements in the cost control and efficient product innovation, and continuously made breakthroughs in monocrystalline ingot growth, silicon wafer cutting and new cell and module production techniques:
In crystal growth, the mainstream RCZ crystal growth process was named by LONGi.
Diamond wire cutting of silicon wafer cutting was driven by LONGi and has fostered the demand for diamond wire technology and helped the industry reduce cost by RMB 20 billion per year. LONGi led the industry with its move to 100% diamond wire cutting of monocrystalline silicon wafers in 2015. In cell and module, LONGi is the first to introduce PERC technology into large-scale production, and continuously enhance the product efficiency. In 2018, LONGi broke the world record for monocrystalline cell and module efficiency five times. LONGi leads the global monocrystalline technology upgrading with advanced technology achievements and innovations.
As an advocate of clean solar energy, LONGi is committed to its social responsibility of "protecting the blue ocean and skies, and building a green low-carbon world" while developing fast, and pioneering the philosophy of "producing clean energy with clean energy" in the photovoltaic industry. At present, LONGi's factories in China Yunnan and Malaysia Kuching actively realize this philosophy of green production with hydropower to produce clean photovoltaic energy products to all corners of the world. LONGi's vision is to use solar energy to produce solar energy by establishing manufacturing bases in areas with good irradiance to produce 100% of the electricity demand in the factories with solar energy.
In the future, LONGi will continue to adhere to the corporate culture and philosophy of "Reliable, Value-add, Delight" to provide excellent services, realize the advantages of large-scale production, vertical integration, innovation, brand and talent to grow into the most valuable solar energy technology company in the world. This will in turn accelerate the advent of PV grid parity and let more people enjoy green solar energy.